Natural progression of AFB in a honey bee colony
It is often assumed that the progression of AFB is both rapid, and in one direction, with the presence of spores in the colony inevitably leading to visual symptoms (i.e., diseased brood), and eventually to colony death. Colony death occurs either because the adult bee population is no longer replaced, or because the adult population becomes so small that the diseased colony is robbed out by foraging bees from other colonies.
Although this rapid one directional progression does occur, other scenarios are also possible. A trial was carried out that looked at the development of AFB infections in honey bee colonies that initially had less than five brood cells exhibiting clinical AFB symptoms. The colonies were checked weekly and the number of cells with disease symptoms counted.
In about one-third of colonies studied, the infection developed rapidly. For instance, Fig. 25 shows a colony observed in that study where the number of diseased larvae increased exponentially.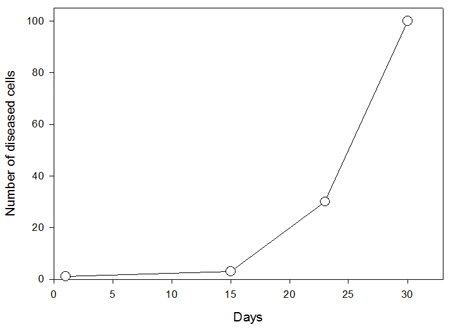 However, in about a further third of colonies, the AFB symptoms disappeared and did not recur even though the colonies were followed for the next four years. Fig. 26 shows what happened in one of the colonies in this group.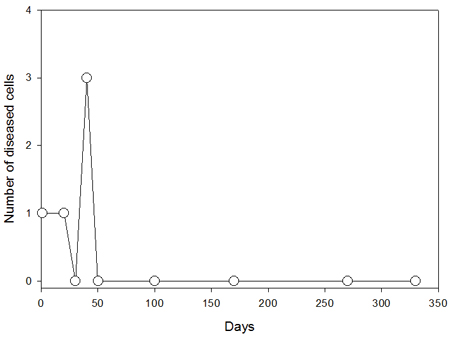 In the last third of colonies studied, AFB symptoms disappeared for between one and three weeks. However, after this time the disease underwent exponential growth. Fig. 27 shows what happened to one of the colonies in this group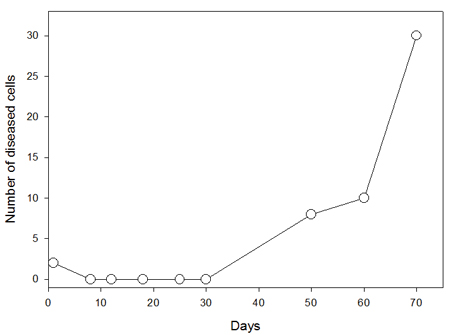 A beekeeper conducting an AFB check during the time this colony was not exhibiting clinical symptoms would have assumed that the colony was not diseased. If frames of brood or honey were removed, the frames could act as a means of spread of the disease to other colonies.
When there is only one frame with AFB symptoms, some beekeepers experiment with trying to control the disease by removing the frame and destroying it. This practice is illegal since the whole colony must be destroyed. It also increases the spread of AFB. The colony may appear to have been cured but develop AFB again much later after honey supers have been removed and placed on other colonies. During the time of apparent cure, the hive was probably capable of infecting other hives with AFB as there may have been other diseased larvae present that were removed by the house bees before the beekeeper saw them.
Do not try to control AFB by removing brood frames showing disease symptoms