Sale and purchase of hives
Contract document template is available for downloading by clicking here.
This section of the website is designed to assist beekeepers who are intending to either sell or purchase beehives.
The key message is:
Make absolutely sure you know the disease status of the hive/s you are transacting and be guided accordingly by commentary below.
If you are unsure please contact your local beekeeping club.
Remember to ensure your hive and apiary details are correctly recorded on the apiary data base.
The Consumer Guarantees Act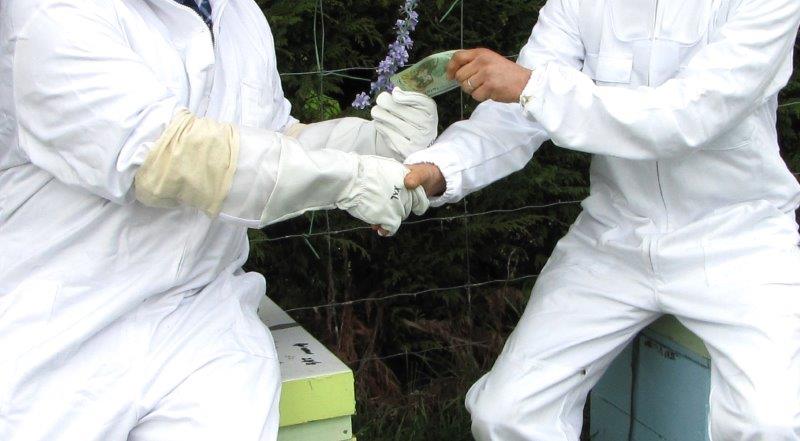 The Consumer Guarantees Act covers any transaction for the sale / purchase of goods or services "to a consumer".
A "consumer" is a person who obtains goods of a kind that are "ordinarily acquired for personal, domestic or household consumption".
As long as it is not extraordinary for the particular goods to be acquired for personal consumption, then they will be covered. Accordingly, although beehives / bees and equipment are probably most often acquired for commercial use, the growing "hobby" market for beekeeping means that it probably would not be considered "extraordinary" for these items to purchased for personal use.
The Consumer Guarantees Act then applies to all transactions involving hives / bees etc- whether the purchaser is a private individual or a company that is purchasing the goods for commercial reasons.
Even though the Act applies to both the commercial and private purchaser – it applies differently. For example, it is acceptable for the seller to contract out of the Act in its dealings with purchasers who are buying the hives / bees for commercial purposes. The seller can not contract out of those obligations where the purchaser is buying the goods for personal or domestic use.
The Fair Trading Act only covers people or companies who are operating "in trade".
The definition of "in trade" is broad, and there is no requirement that there be a commercial character to the operation.
The indicators the Courts look at in deciding whether a particular person or company is "in trade" include:
whether the person / company (i.e. "the seller") regularly or habitually offers to sell goods or services;
whether the seller buys, makes or obtains goods with the intention of selling them;
whether the seller is GST registered;
whether the seller has staff or assistants to help manage their sales; and / or
whether the seller has set up a company or other type of trading vehicle.
So, in general, a one off or infrequent seller of beehives or equipment would be unlikely to be captured by the Fair Trading Act. But a person or company that frequently sold hives or equipment could be captured.
The above information is general in nature. No liability is assumed by the authors, or publishers, for any losses suffered by any person relying directly or indirectly upon this summary. If you have any particular queries regarding your own individual situation, please obtain legal advice.
September 2015