Development of brood infected with American foulbrood
The developmental stages of worker brood infected with AFB are outlined in Fig. 7 below.
Larvae are most susceptible to AFB infection when they are less than 24 hours old. Millions of spores are required to infect a larva more than two days old, but larvae up to 24 hours old can become infected with ten spores or fewer.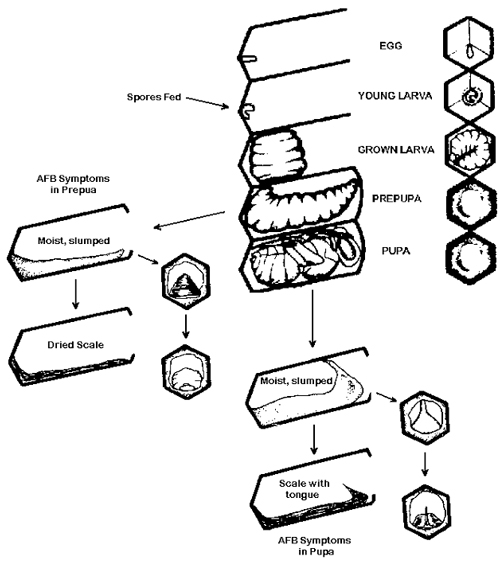 Compare picture above to normal development
Although the AFB vegetative rods multiply in the gut of the larva, they do not penetrate the gut wall and multiply in its tissues until it stretches out before pupation (prepupal stage). Visual disease symptoms do not become apparent until death occurs, either just before or just after the larva pupates.
Infected larvae do not usually exhibit disease symptoms until after the cells have been capped. Where uncapped diseased larvae and pupae are found it is usually because the cappings have been removed by house bees.