Beekeepers, please accept a big thank you from the AFB PMP Management Board for joining us in the process of developing a 5-year plan/strategy for the eradication of American foulbrood in New Zealand.
Submissions on the first draft of the 5-year plan/strategy have been generally very favourable. Some beekeepers have raised matters and ideas which have not been identified to date, while others provided significant amounts of technical detail.
We have compiled the submissions and are identifying how we can best work through them with our strategic partners, MPI and AsureQuality, as the next step.
Your submissions on the first draft of the 5-year plan/strategy have raised a lot of good points. We are committed to eradication of AFB and have found that most beekeepers support this goal.
While some submitters expressed doubt about the value of a 5-year plan/strategy, the AFB PMP Management Board has affirmed the need for change to create a more successful program for dealing with AFB. This will include looking at all aspects of AFB Management and bringing the conclusions together in a way that enables beekeepers to engage in shaping the future.
Part of this process will be the development of a strategic document setting out the plan for the future. We will certainly be consulting further before this is finalised.
A total of 420 responses were received to our invitation for comment. Most responses came in via our online survey link (SurveyMonkey). Fifteen substantive written submissions were received, three of which came from the same person. Ninety-five per cent of respondents support the general approach of the 5-year plan/strategy and its goal of eradicating AFB by 2030.
As expected, there was a wide diversity of views about what needs to be done and whether this requires new resources; this direction will be determined as the strategy unfolds.
The majority of beekeepers agree that change is necessary and the AFB PMP must be managed in a manner that reflects the present-day beekeeping environment. In addition, beekeepers consider that non-compliant operators should be brought into line with stronger legal requirements and industry best practice. Beekeepers also agree that technology could be better utilised and communications improved.
The AFB PMP Management Board is now developing responses to the points raised and deciding how the next draft of the plan should be shaped. The Board is also developing details about the practical implementation of how AFB can be eradicated and what investment may be required to achieve this ultimate goal. We will be issuing updates as the work progresses.
Again, thank you for this continued interest and support. We will be seeking further consultation with you in the coming months.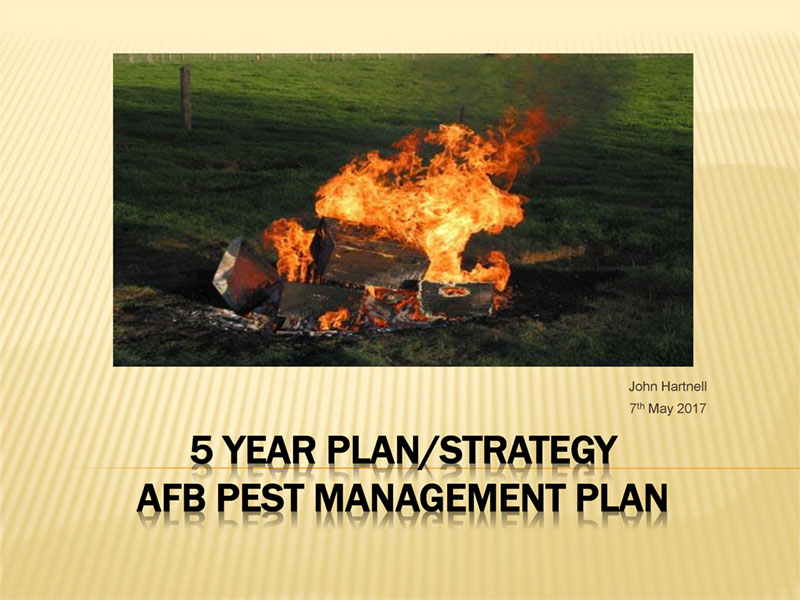 AFB PMP Management Board Chairman Presentation to Canterbury Field Day 7 May 2017